Regular price
$34.95 USD
Sale price
$34.95 USD
Unit price
per
Sale
Sold out
If you're like most you spend a lot of time heading back and forth to work, leaving the house for events with your kids, and simply juggling a bunch during the day.
Which means if you don't have a designated place to keep your wallet, phone, and other important things when you come in the door chances are you leave them all around your home or office and misplace them easily.
We developed the DailySeek EverydayTray EDC Desk Tray as a multipurpose catch-all, so you can easily add a trendy, yet personal touch to your space while also making it easier to stay organized and on top of where your must-have items are at all times.
Product Details:
Desktop Valet Tray
Home and Office Accessory
Magnetic Partition
Soft Wool Felt Base
Reinforced Metal Edging
Color: Dark Grey Black
Dimensions: 9" x 7" x 1"
Share
View full details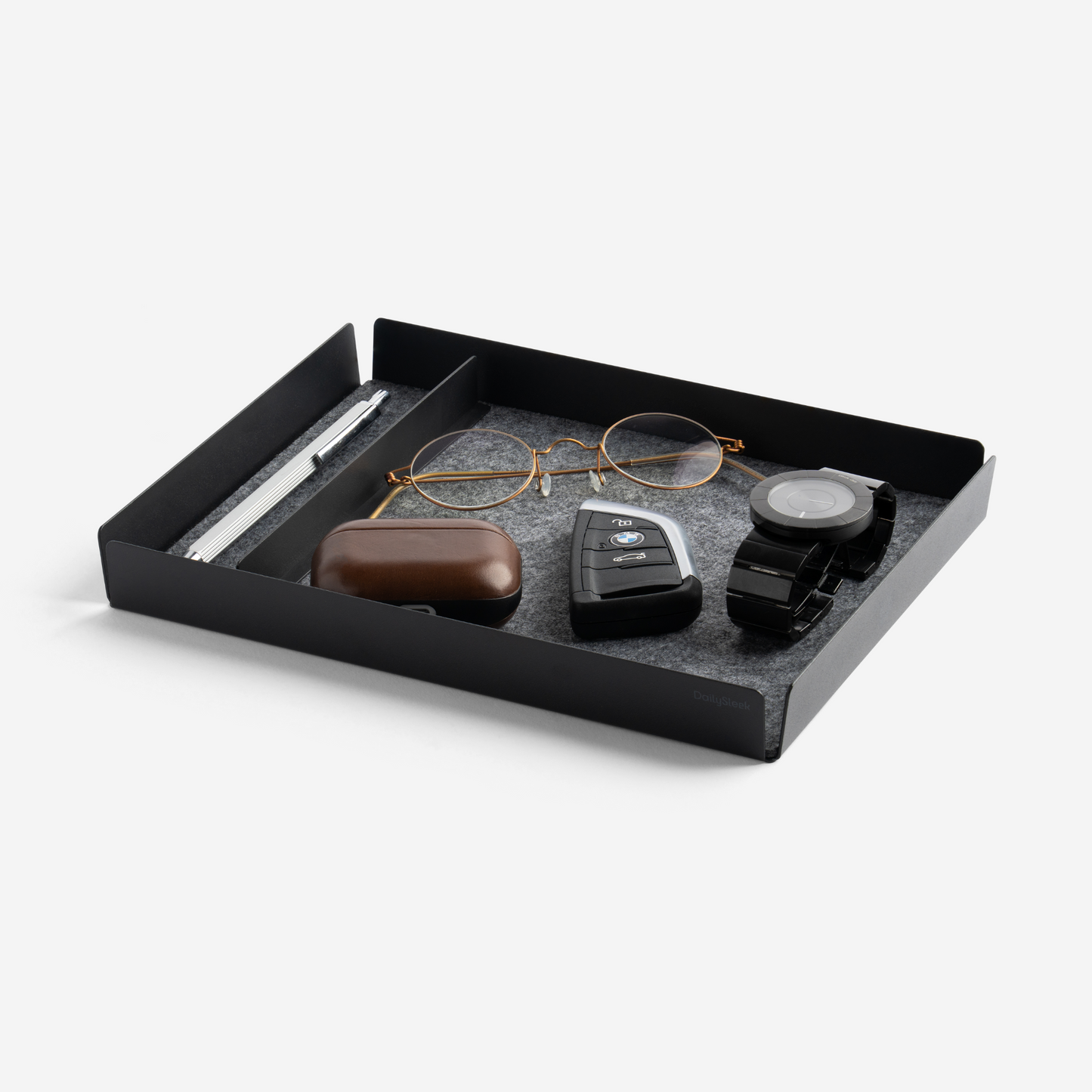 A very well made product with tremendous upside
Bought this after seeing a TikTok. It is really well built. Includes anti slip feet. Comes with a handy divider. The spaces in the corners are perfect for passing through a wireless charger (like MagSafe).
The depth makes it tricky to get your phone out. The shape is more square so not soemthing that fits for my desk space per se. Usually I place my trays on my desk above my keyboard.
Over all a pretty good experience!
Really handsome and functional valet tray
I love valet trays--I have them all over my house and office because they're the perfect place to put things you need to keep track of but also want to keep close at hand. Car keys, for example. I ordered this because it perfectly matches my swanky flannel desk pad. The flannel is almost identical in color and texture. I'm a sucker for anything with a magnet and the divider in the middle of this tray is magnetized. This is not only very cool intrinsically but lets you move it around to divide the tray how ever you see fit. Highly recommended!
Great for holding odds and ends. It's a good sturdy metal, doesn't take up too much space, and wool felt is fairly substantial. The magnets in divider are a bit weak up against the wool felt but the magnets are too strong without the wool felt. I think it works well enough tho and it looks nice. I think it's priced about right because it's a nice sturdy metal -not flimsy at all. I recommend based on its simplicity, sturdy metal, and smart looking grey wool felt -and it a nice way to tidy any surface by placing any odds and ends in it.
I love it!
This desk trey is perfect for organizing my home office desk and it is just what I needed to keep my desk from being so cluttered.
Easy to assemble, looks good on a dark desk!
This is a good product to organize all the small items on your desk. The little divider bar uses magnets to secure it through the felt to the bottom of the tray. It's brown and the felt is grayish and it comes with little feet for the bottom so it stays in place. I recommend this product. It could also be used for putting your keys and wallet in near your exit. I'm using it on my desk to keep small items a bit more organized.
Happiness Guarantee

We've spent countless hours developing and refining our products - we know you'll love them.


However, we understand this might be your first time buying from us. We want you to feel 100% comfortable in your purchase, so your order is covered in-full by our Happiness Guarantee.

Happiness Guarantee.