Regular price
$39.95 USD
Sale price
$39.95 USD
Unit price
per
Sale
Sold out
Are Cables Overrunning Your Desk?
Keep your workspace more organized and look ultra-professional with the SleekTray Under Desk Cable Management Tray - specifically designed to hide those pesky computer, monitor, and peripheral wires effortlessly.
Why Choose SleekTray?
✔︎ Unique & Extra Large Design
✔︎ Discreet, Low-Profile Aesthetics
✔︎ No-Drills & Easy Installation
✔︎ Matte Black Powder Coating
✔︎ Sturdy Yet Lightweight Metal Construction
Product Specifications That Matter 
Material: 0.8 mm premium quality metal
Color Coating: Stylish matte black
Installation: self-adhesive or drills for more load
Dimensions: 16 x 4 x 5.5 inches
Packaging: Almost Zero plastic
FAQ
Q: Does the SleekTray come with adhesive, or do I need to buy it separately?
A: The SleekTray comes with a built-in self-adhesive installation method, so there's no need to purchase anything separately!
Q: Can the tray support heavy power bricks without bending or breaking?
A: Absolutely! Made from sturdy metal, the SleekTray is designed to hold power bricks and multiple cables without any issues.
Q: Does it fit all desk types, including standing desks?
A: Yes, SleekTray is versatile and can be attached to various desk types, including standing desks, ensuring a clutter-free space regardless of your desk model.
Q: I have a dual monitor setup with multiple peripherals. Will one SleekTray be enough?
A: One SleekTray offers ample space for multiple cables. However, for setups with an extensive array of devices, we recommend the 2-Pack for maximum organization.
Share
View full details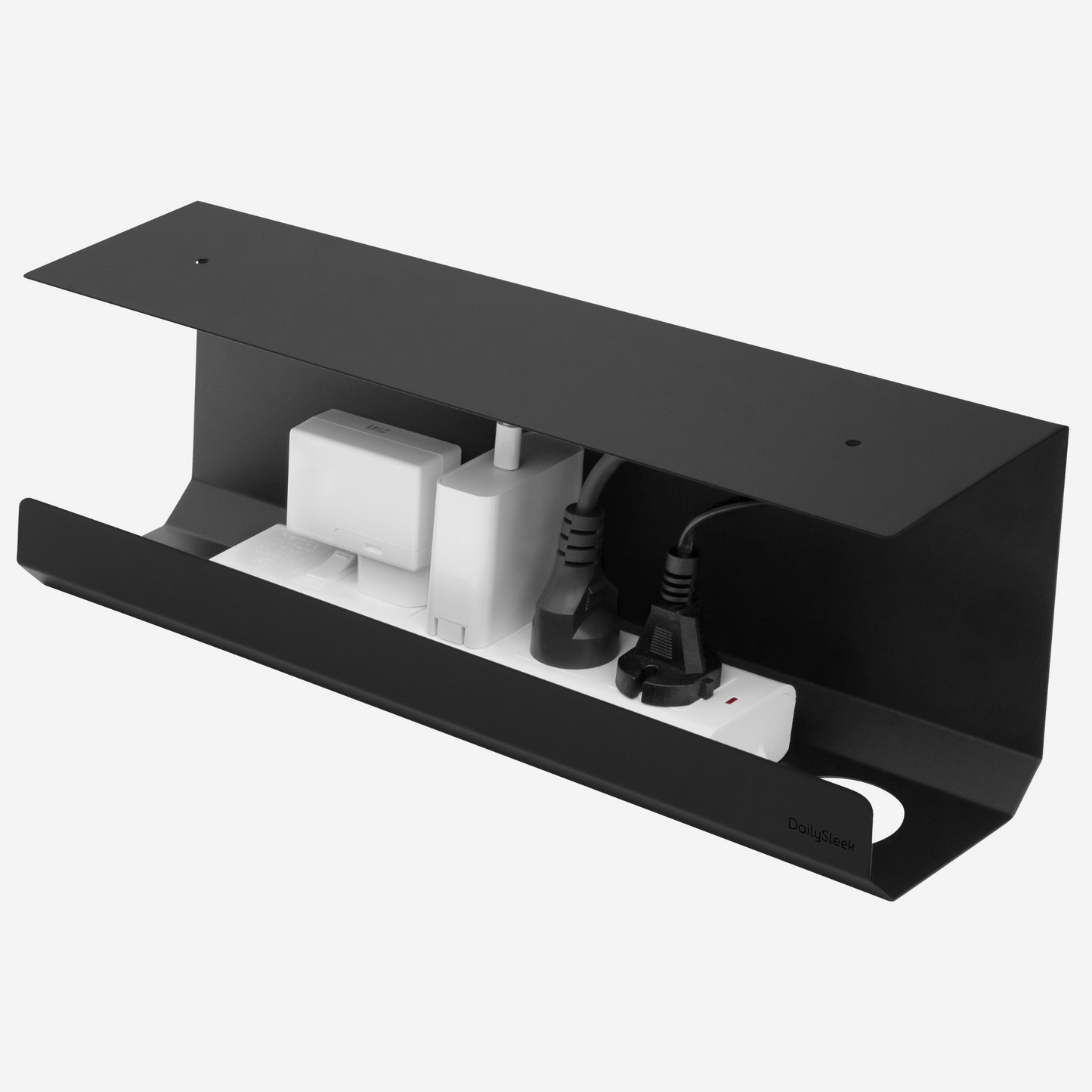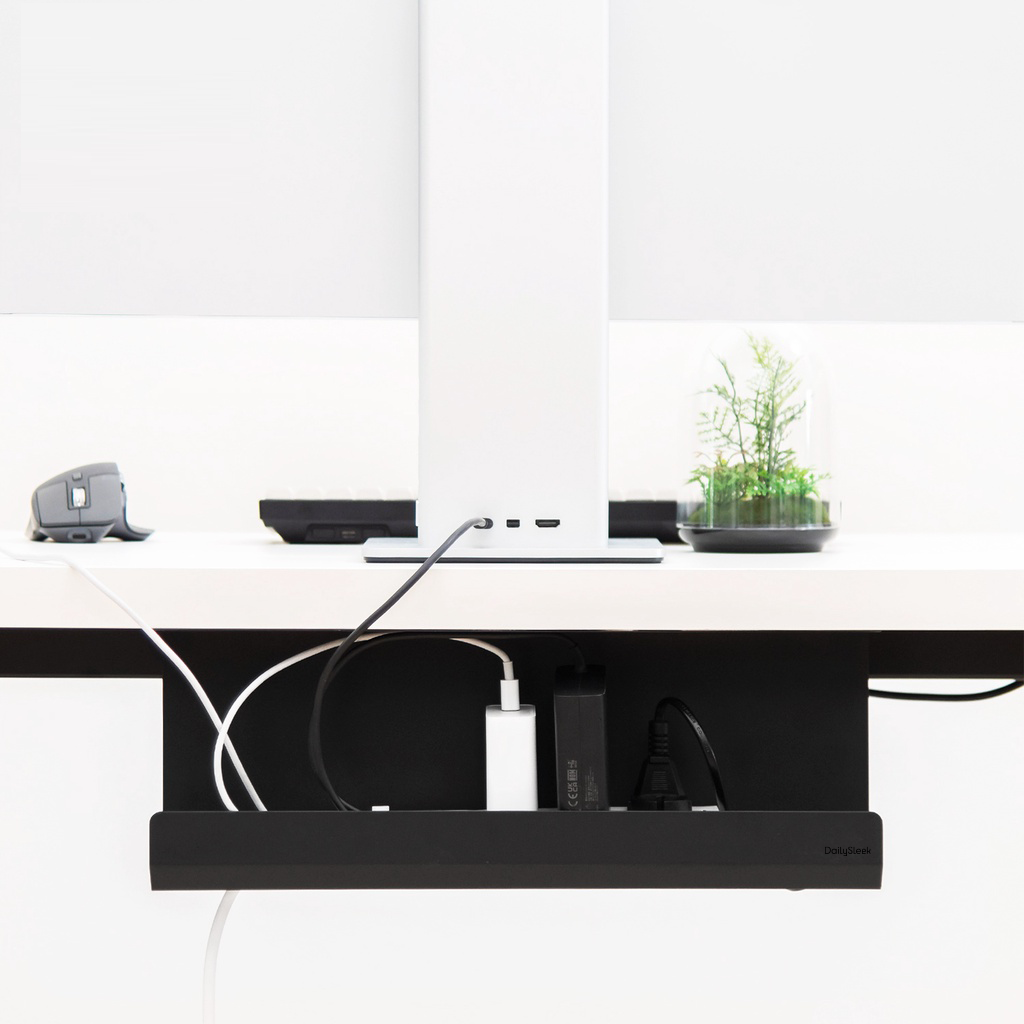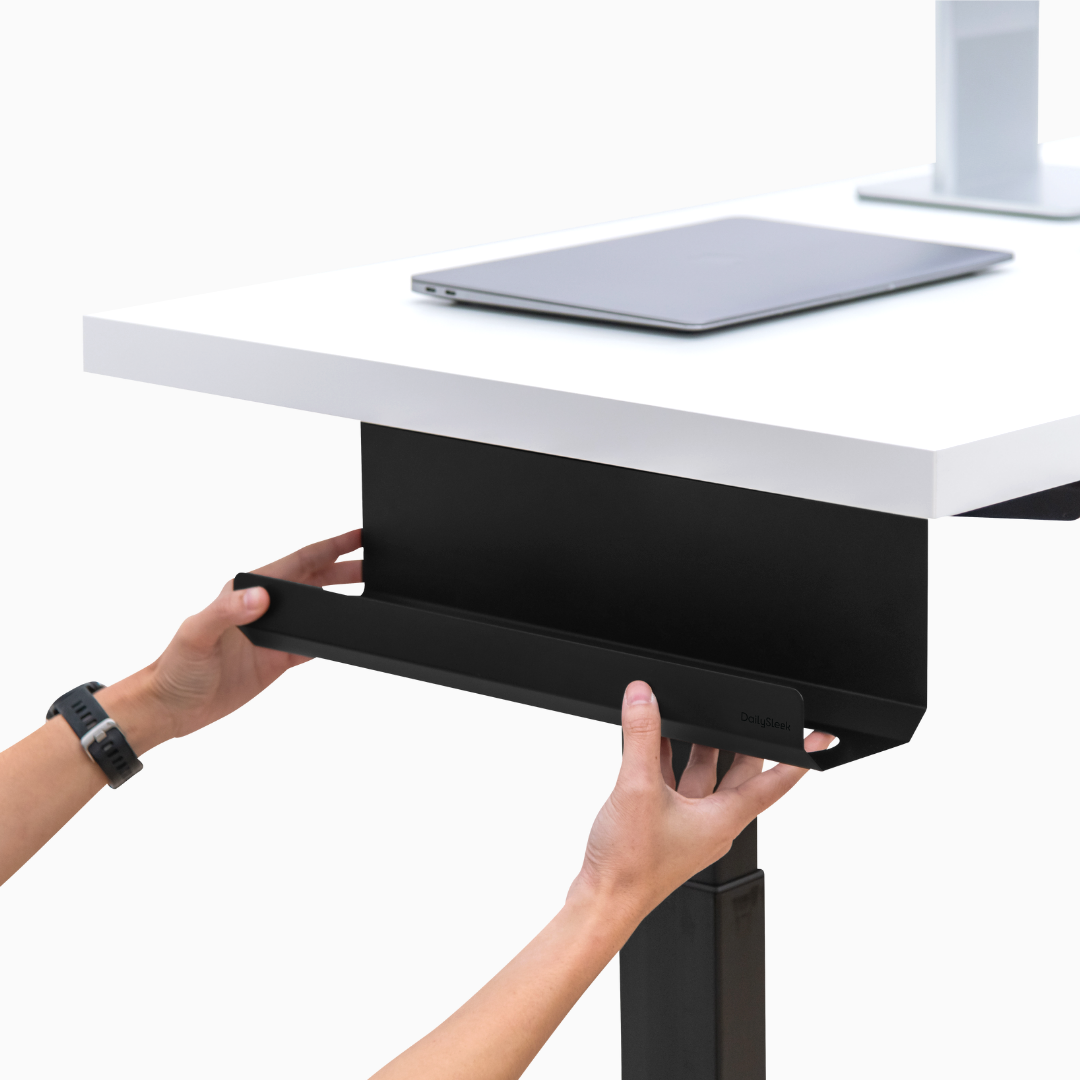 Super Impressed w/ the Quality
This is a great Amazon find - you're paying more for high quality and it's WORTH IT! Amazon needs higher quality items and this delivers. I screwed mine into the desk I have, can't speak to the tape but there's a lot of it if needed.
High quality, perfect table fit
The price might be higher than other stores, but I chose this because it fits my work table perfectly. The actual product is excellent - thick and durable, ideal for not so large tables. I absolutely love it!
Premium Design in the right size
I debated for a while because I initially didn't want to drill into my rather expensive table. But I chose this item due to its appealing design, perfect fit, and importantly, its enclosed design. It effectively conceals those messy cords and the size is just right - neither too small nor too large.
I wish they offered a clamp version for those of us who don't want to drill or for tables that can't be drilled. The only options on the market are narrow clamps. Despite that minor detail, I really love this product, it's been a fantastic addition to my setup. Highly recommended!
Great value for money!
I'm really pleased with the brand. The heavy-duty cable tray I bought is great value for money. Not sure yet if I need to drill it into the table, but it's sturdy and ready to use with the adhesive tapes (Included in the box). Overall, a fantastic buy for the price. Definitely recommended!
Happiness Guarantee

We've spent countless hours developing and refining our products - we know you'll love them.


However, we understand this might be your first time buying from us. We want you to feel 100% comfortable in your purchase, so your order is covered in-full by our Happiness Guarantee.

Happiness Guarantee.